Audio and Video Inputs
HD-SDI inputs receive HD or SD camera video, with embedded audio. Audio and video are synchronized throughout their respective processing paths to preserve audio-video synchronization in the output programs.
Video Timecode Alignment
Embedded SMPTE time codes received from the camera feeds are preserved throughout the NVE-200 processing enabling their use in the non-linear editing system. If they are missing from the video feed, time codes are inserted based on the arrival time at the NVE-2000 input.
Video Format Conversion
The NVE-2000 accepts digital video from cameras in a variety of formats, up to 1080i at 30 frames (60 fields) per second, 1080p30 or 720p60. The NVE-2000 converts the format of the video received from each camera into other formats as directed by user controls to provide specific video format at the streaming output or for remote monitor IP streams.
Video Encoder
The NVE-2000 encodes the video to MPEG-2 using a variable bit rate encoder that facilitates non-linear editing. The encoded video clips are compatible with commonly used codecs, such as XDCAM. Support for additional video codecs is available upon request.
Audio Encoder
The NVE-2000 encodes up to 8 stereo audio programs to Dolby Digital at user-selectable bit rates. Both linear PCM audio and encoded audio are available for output to a remote monitor and the network storage server.
Video Clip Manager
The NVE-2000 assembles the audio and encoded video streams into video clips, which are stored in its Video Clip Buffer and exported to the network storage server. The Video Clip Buffer stores clips on a first-in, first-out basis. Clips that are lost, mis-placed or accidentally deleted from the network storage server may be recovered from the NVE-2000's Video Clip Buffer for at least two hours after they were originally exported to the network storage server.
Remote IP Video Monitor
The NVE-2000 generates a UDP or RTP MPEG-2 transport stream containing one of the encoded video feeds, which may be monitored remotely.
Video Clip Tagging and Annotation
The NVE-2000 provides the ability to tag video clips with metadata that may be used to identify clips with high value content or to annotate specific events during production, reducing the time required to review clips during the editing process. Metadata tagging and annotations may be performed using simple contact closures or network enabled smart phone applications.
Flow Diagram
---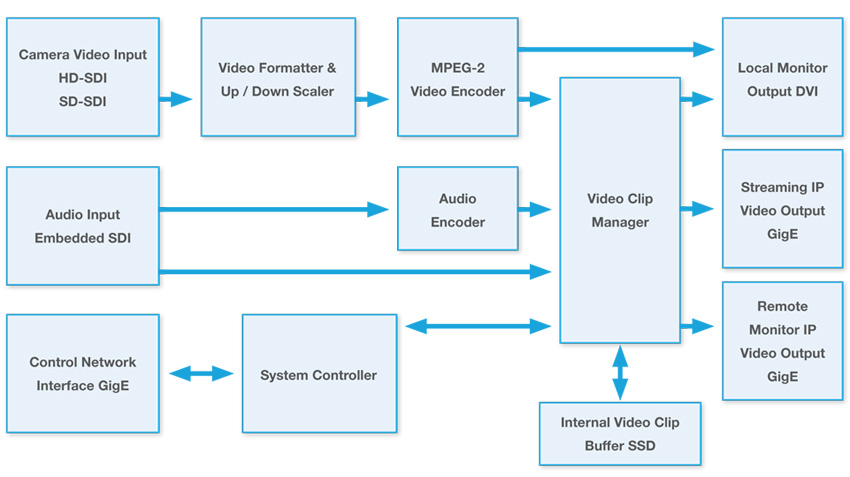 Performance Specifications
---
Parameter
---
Digital Audio Input
---
Digital Audio Sample Rates (auto sense)
---
Audio Encoder
---
Audio Encoder Capacity
---
Audio Encoder Bit Rates (user selectable)
---
Video Encoder
---
Video Encoder Capacity
---
Camera Video Formats
---
Encoded Video Output Formats
---
IP Video Monitor Output Formats
---
Output Video Container File Types
---
Output Video Codec Compatibility
---
Output Video Buffer Capacity
---
Value
---
SDI Embedded
---
32, 44.1, 48 (kHz)
---
Dolby Digital (AC-3)
---
8 stereo audio programs
---
96, 128, 192, 224, 256, 320, 384, 448 (kHz)
---
MPEG-2, VBR, 50Mbps nominal
---
2 1080i HD video programs
---
1080i60, 1080p30, 720p60
---
1080i60, 1080p30, 720p60, 480i, 576i
---
480i, 576i
---
MXF
---
XDCAM (others upon request)
---
4 Hours of 50Mbps Encoded Video
---
Parameter
---
Power Consumption
---
Storage Temperature
---
Operating Ambient Temperature
---
Internal Temperature Shut-Down Limit
---
Operating Humidity (non-condensing)
---
Min
---
35 Watts
---
-40°c (-40°f)
---
0°c (32°f)
---
n/a
---
n/a
---
Typical
---
50 Watts
---
n/a
---
n/a
---
n/a
---
n/a
---
Max
---
80 Watts
---
70°c (158°f)
---
50°c (122°f)
---
65°c (149°f)
---
95%
---
Environmental and Compliance
---
Parameter
---
Cooling Mechanism
---
Electromagnetic Emissions Compliance
---
Safety Compliance
---
Dimensions
---
Weight
---
Shipping weight with packaging
---
Value
---
Integrated fans, air flows front to rear
---
FCC Class A
---
UL 60950, CSA 22.2 No 950
---
2RU – 19 W x 3.5 H x 16 D inches
---
17 lb
---
18 lb
---
No. of HD Camera Inputs
---
2
---